How to enable, disable and select specific shipping & tax rates on a per product basis.
Product specific shipping
Specify whether Product Requires Delivery Or Collection - Enable this option if the Product needs to be physically delivered to customers. For digital goods or services, switch this off (this disables the Shipping Rates section below).

Choose one these Shipping Rates:

Use Global Rates - Shipping cost is calculated according to your shipping settings. Use this option if there are no special fees and conditions associated with delivery of this item. You can charge a fixed fee per item quantity on top of the shipping cost.

Fixed Rate Per Item - Prompts to enter a fixed price. Use this option if this Product requires an individual shipping price.

Free Shipping - Free shipping for this Product, use this option if you're going to cover shipping expenses yourself.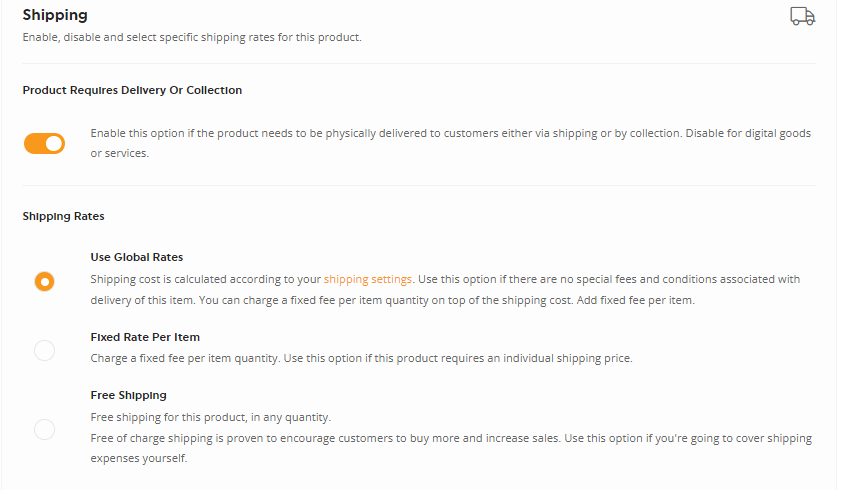 Specify Weight & Dimensions
Specify Product's weight and dimensions to obtain precise carrier-calculated shipping rates for your customers.

Dimension and weight units are configured in your Store settings
Product specific taxes
Select the appropriate "tax category" for this Product to ensure tax is calculated correctly. Leave this option empty to use the default taxes from your store.
See here for information on Store-wide tax settings.
The Tax Exemption toggle can be used to waive taxes for this Product, e.g. if VAT exempt.