Shoprocket allows you to easily add different people to your Store management team, with different permissions appropriate to their Role.
From your Shoprocket dashboard, go to Settings > Team and you will see the Manage Team screen: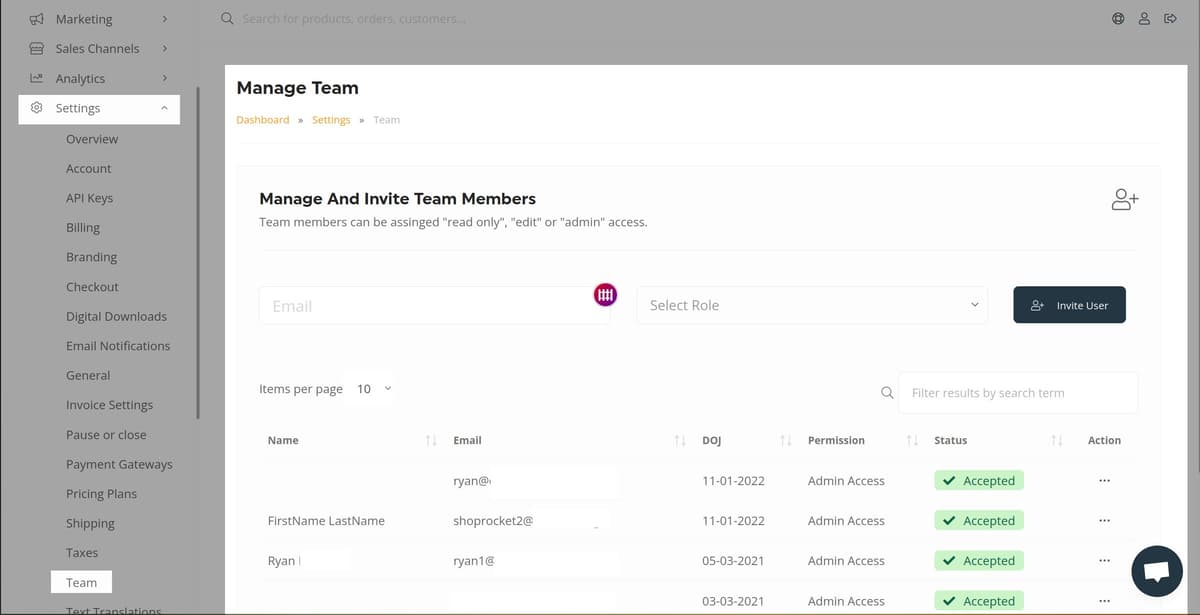 ---
Inviting a new team member
Fill in the Email and Select Role fields and click Invite User. An email will be sent with instructions on how to set up their team account.
Roles are "Admin Access" (all functionality), "Edit Access" and "Read Only" (cannot make any changes).
---
Existing team members
The Manage Team screen shows all the current members of your team with the following information:
Name - their profile name.
Email
DOJ - the date they were invited to join the team.
Permission - the Role as explained above.
Status - either "Accepted" or "Pending"
Action- the following options are available from the action dropdown menu for each team member:



View/Edit - this will show the following screen:


If desired, change Role using the drop-down and click Save User.



The email address of the user cannot currently be changed on this screen.




Remove - this will show the following Popup modal:






Click CONFIRM to remove the team member, or CANCEL to close the modal.