There are a number of ways to offer free shipping, the most straightforward is to create a "Free Shipping" option from within your shipping settings, which will be available for all orders.
From your Shoprocket dashboard, go to Settings > Shipping, which shows a searchable and sortable list of your current Shipping Options.
Click Add Shipping Option button to see the Shipping Option Types screen:
Click the Setup button next to Free Shipping:

The next page will show you the Shipping details, with the name pre-populated as "Free Shipping", the Zone automatically set to your Store country and the price as 0.
We suggest adding a description that clarifies any terms or requirements for free shipping. The description will appear in the Shipping option at checkout, in the order confirmation modal and in the email receipt.
In order to support Free Shipping, you need to choose which Zone it is available for. E.G - if you only Free Shipping shipping to the UK, ensure you set up/choose the appropriate zone. Clicking Manage Zones will take you to the Manage Zones settings page.


Free Shipping for Specific Products
The next method to offer Free Shipping is on a per Product basis. To do this, from your Shoprocket dashboard, go to Products then click the product you'd like to enable Free Shipping for.
In the edit Product view, click on the Tax & Shipping tab, then enable the Free Shipping switch: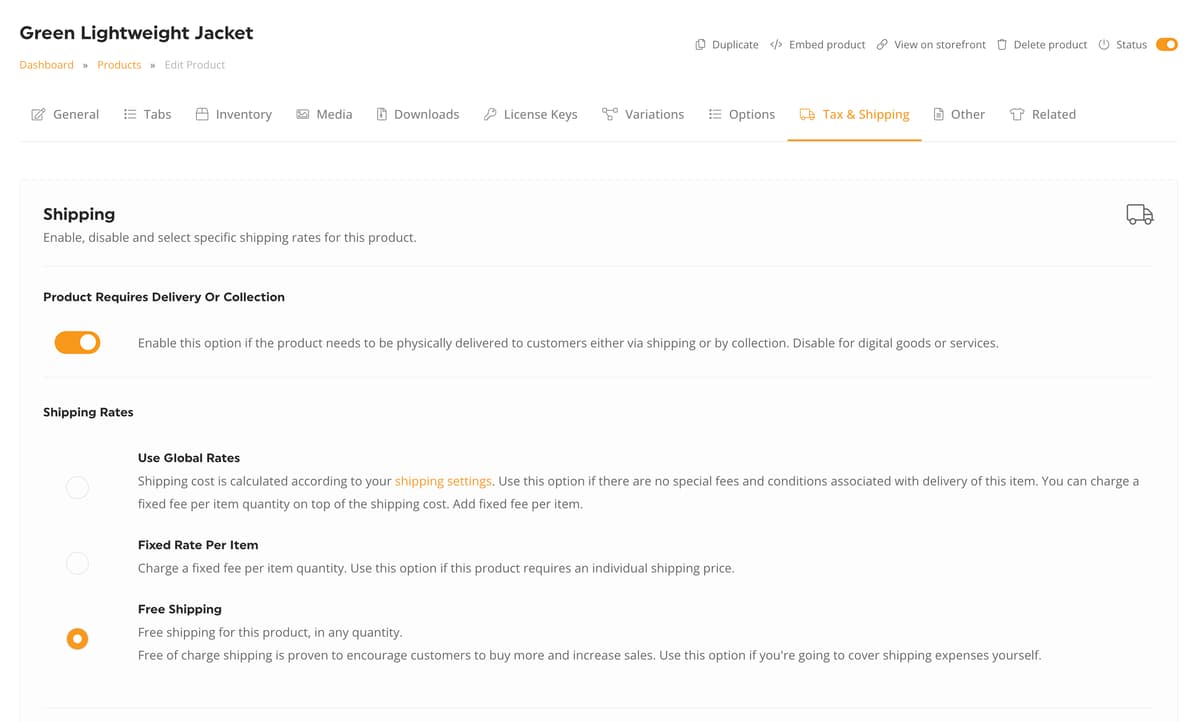 This will override any Storewide shipping options you have set up for this particular product. If an order consists of Products that have a Shipping cost and others with a Product-specific cost (or Free Shipping) we will show a breakdown in the cart and order details to clarify the cost calculations: