In This Edition:
Dashboard Order Filters
Test/Live Mode for Stripe
Manually Update Payment Statuses
Partial Refunds
Improved Import/Export Options
Site of the Month
Dashboard Order Filters
We've added a new "filter" dropdown to the order view in your dashboard, enabling you to instantly filter orders by:
Date range, payment status, fulfilment status, payment method, order amount and customer.
Test/Live Mode For Stripe
Previously, the only way to test your store with Stripe, was to place a small order with a real payment. Today, you can simply switch your store to "Test Mode" and then checkout via Stripe, which will also be in test mode.
You can find Stripe's test card details here .
This will allow you to test the entire checkout flow, and see the payment details in your own Stripe account, without having to make live payments.
When you're happy with the setup, just switch your store back to "Live Mode" and your Stripe checkout will also be switched to live mode.
Manually Update Payment Statuses
Sometimes, you may find yourself needing to manually update a payment status. That may be due to a customer paying by a different method than specified during checkout, or when using "Manual Gateways" such as cash on collection or cheque.
Now you can easily update the payment status via your dashboard for any order, and optionally send an automatic update email to your customer.
Partial Refunds
We've added support for partial refunds via your dashboard, to allow you to issue refunds for specific line items or a percentage of the order value.
Simply click the "Refund" button, then specify the amount you'd like to refund. This will then be reflected in the order, and logged in the Order History section.
Improved Import/Export Options
We've added a number of improvements to both import and export for products and orders, including the ability to specify why columns you'd like to include in the exported CSV.
We're also working on a new 'mapping' feature to make importing products even easier, stay tuned!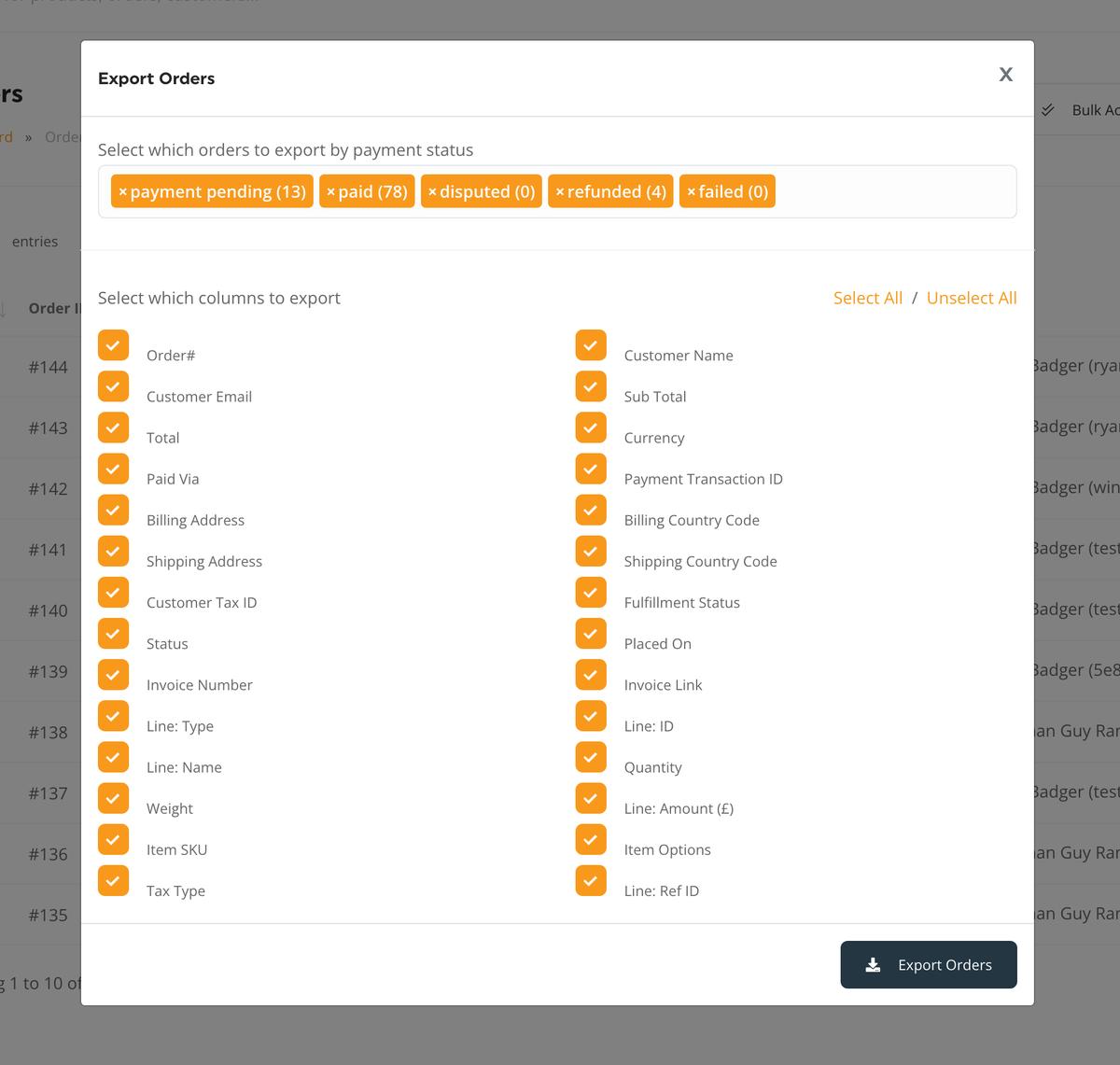 Site Of The Month
To showcase the many possibilities with Shoprocket, we're presenting our favourite store each month.
This month is njgeddes.com , who have embedded a complete store into their existing website to sell custom fine jewellery .
Some of their most unique items are over £15,000 - but of course, they're completely protected by Shoprocket & Stripe.